Automatic Gas — Forklift Propane Services
Businesses rely on propane as a safe, affordable fuel for their forklift operation. At Greenville Automatic Gas provide dependaable forklift propane service to keep your business operations running smoothly. With on-site bulk storage tanks, you'll always have propane on hand to keep your business running smoothly.
Automatic Gas Co. provides our commercial accounts with a bulk tank, pump and meters if needed. With an estimate of your total annual usage, Automatic Gas Co. can suggest the tank size appropriate for your business.
Contact Greenville Automatic Gas for details about commercial propane use and service.
By being an active member in good standing with our industry's trade associations, Automatic Gas Greenville & Automatic Gas Mt. Enterprise understand the regulations required to meet your business' needs.
Forklifts can be used for a variety of jobs in plants, warehouses, distribution centers, etc. Propane powered forklifts offer consistent power at an affordable price. They allow for better speed than other energy sources can provide and run longer.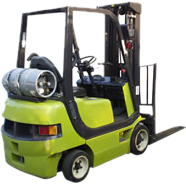 Since propane burns cleanly and releases very low emissions, propane powered forklifts are safe for indoor and outdoor use. Cleaner fuel also means fewer maintanence costs and better for the environment.
Our prompt cylinder refill services will make sure your forklifts are always ready to keep your business running smoothly.
Propane Powered Forklift OSHA Recommended Practices
OSHA requires that all forklifts be examined at least daily before being placed in service. Forklifts used on a round-the-clock basis must be examined after each shift. Check the following items:
Properly mounted tank
Pressure relief valve pointing up
Hose and connectors
Tank restraint brackets
Tank for dents and cracks
Tank fits within profile of truck
Leaks
Contact Automatic Gas today to see how we can provide you with the reliable propane service you want and deserve for your business.